Hotel Management System Integrated Offering (HMSIO)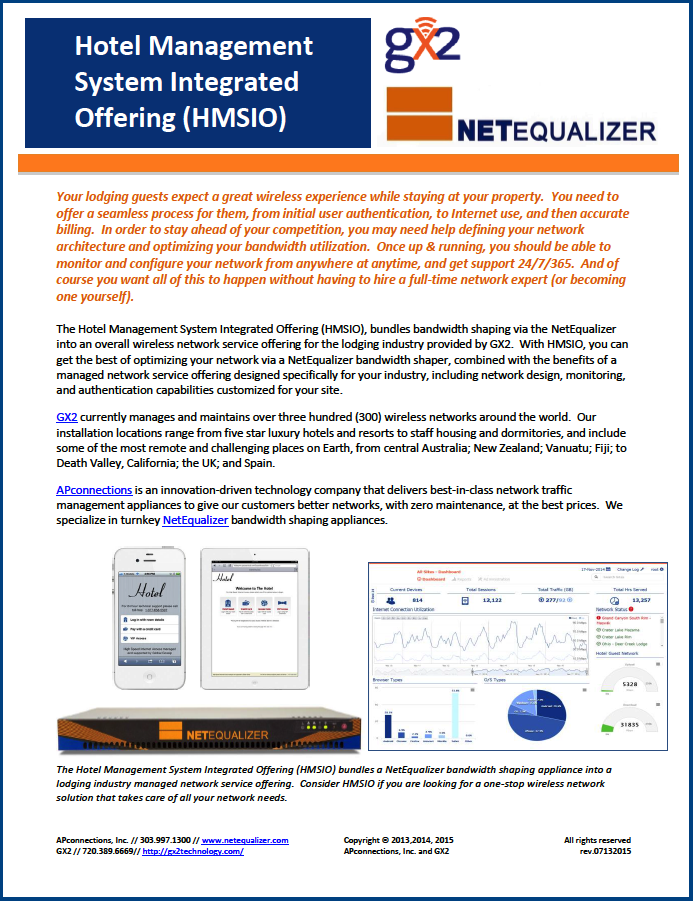 APconnections, an innovation-driven technology company that delivers best-in-class network traffic management appliances, and GX2 (formerly Global Gossip), a leader in network managed services for the lodging industry, are excited to offer the joint Hotel Management System Integrated Offering (HMSIO).
The joint offering combines the strengths of the NetEqualizer behavior-based bandwidth shaping appliance, with GX2's world-class managed network services offering. HMSIO will offer hotel and lodging customers a full suite of capabilities to manage their wireless networks, including customized authentication, behavior-based bandwidth shaping, 24/7/365 support, a cloud-based monitoring portal, and network design services. With HMSIO, hospitality and lodging customers can provide a "low noise", high quality, wireless Internet experience to guests along with unmatched excellence in customer support. Learn more in our HMSIO Data Sheet.
---
Hotel & Resort Testimonials
---
Ben Whitaker, Principal at Jetset Networks, Greater Jakarta Area, Indonesia, Alila Jakarta
"Just an update about the results we got on our latest install...
We just finished a project with the 262-room Hotel Alila Jakarta, installing our aggregation gear and also the NetEqualizer. At the hotel we were able to double the bandwidth to 15Mbit and provide failover. But the Active Bandwidth Control with the NetEqualizer was the most impressive.
The hotel was using a primitive system called Rate Caps on Microtik equipment to limit each accesspoint to 3/4 megabit. So nobody ever got speeds over 3/4 megabit. The entire Ballroom for example, had to fight over 3/4 megabit. Really inefficient.
We put in our gear and now guests are getting 3.5 megabit even if the line is full. It instantly "makes room" for important traffic and guests can get peak speeds all the way up to 15Mbit if the line isn't full.
When we set it up, by chance their Global CEO was in town that day. He suddenly got 7Mbit, which is 9 times the speed he usually gets at the hotel - and told the GM about it. The hotel's Financial Controller shook my hand the next day and thanked me. Internet is nine times faster? That's major. Just by fixing the traffic control system.
Available speeds to guests are now 5x to 10x what they were because we got rid of the primitive Rate Cap system. "
(back to top)
---
"We try to stay ahead of the curve here in Washington, DC; our customers are very tech savvy and require the best service when it comes to their Internet connectivity. Since installing the NetEqualizer back in November 2006 it has been smooth sailing - no busy hour slowdowns or complaints."
(back to top)
---

Damien McNabb, Parkland Computers, Hotel in Manitoba, Canada
We provide IT support and services for a large hotel and conference center here in Russell, Manitoba (Canada). Since installing the NetEqualizer our Internet Congestion during peak usage has disappeared. I was so impressed with the NetEqualizer that we are now installing two more NetEqualizer units at other smaller resort properties here in town.
(back to top)
---

Phillip Pennington, Director of Event Technologies, Portola Hotel & Spa
According to Phillip Pennington of Portola Plaza's IT department, he was not surprised with the results as our NetEqualizer products (they have four of them) have worked flawlessly throughout the complex since being installed 18 months ago.
"We have just a few minor customizations to make for the hotel's billing needs, and plan to bring up the rest of the hotel in January 2009."
(back to top)
---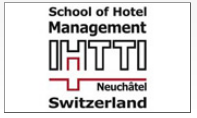 Hotels and restaurants are increasingly offering free wireless Internet access to their customers. Our tests of the NetEqualizer DataShaper have shown us that this product is ideal for controlling bandwidth costs and ensuring quality services. NetEqualizer should be an essential piece of gear.
(back to top)